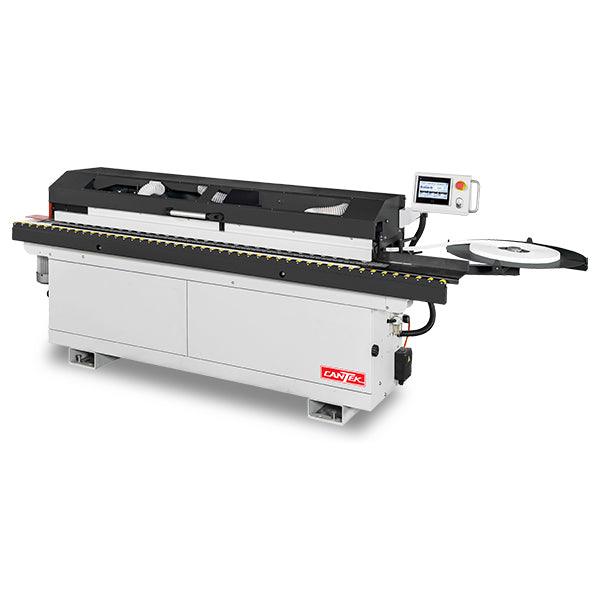 CANTEK Automatic Edge Bander MX370M - Pre Milling and Corner Rounding (3 Phase)
Save

1

%
Save

1

%
Original price
$28,000.00
Original price
$28,000.00
-
Original price
$28,000.00
Original price
$28,000.00
Pre-milling & corner rounding in a small footprint.
The Cantek MX370M Edgebander is designed to be a compact & durable entry level edgebander with pre-milling & corner rounding functions offered at an affordable price. This machine is equipped with pre-milling, combination end trimming & corner rounding unit, flush trimming, PVC scraping, and buffing.  User friendly controls and adjustments allow for efficient changeovers of edge tape thicknesses between 0.4mm & 3mm


Why Cantek MX370M Edgebander?
Compact design with dual function end trim and corner rounding unit
Versatile edgebander capable of applying 0.4mm to 3mm edge tape
Counter rotating diamond pre-milling heads ensure a perfectly square edge and clean panel to work with, resulting in a minimally visible glue joint
The corner rounding function finishes the ends of cabinet doors and more with a radius edge, eliminating any manual rework of the panel


Automatic edge feeding with a thickness capacity of 0.4–3 mm; strip material can be hand-fed
Conveyor chain feed system for reliable results with a feed speed of 23 FPM
Heavy-duty pressure beam with extendable workpiece support
Heated infeed fence for pre-heating the panel for optimum glue penetration
Spring-loaded pressure unit with (2) pressure rollers
Teflon-coated hot-melt glue pot
User friendly 7" touch screen to control all edgebander functions
Edge coil support plate for PVC/ABS coiled edgebanding
Radius scraping and buffing units ensure a clean and vibrant edge


TOUCH SCREEN INTERFACE
Glue temperature settings
Units can be selected and disengaged individually
Heated fence is standard
Keeps track of workpiece length, number or work pieces and hours.
PREMILLING UNIT
(2) diamond milling heads which are counter rotating mill the edge of the panel prior to applying the edgebanding for precise squareness and optimum edge results. Maximum removal of 3mm.
END TRIM / CORNER ROUNDING UNIT
Dual purpose unit for performing end trimming and corner rounding functions in one.
Can flush trim or radius trim depending on the work piece being machined.
FLUSH TRIMMING UNIT
The standard copy roller disc for flush trimming unit is accurate, does not damage the work piece, and produces an optimum finish.
Adjust cutter position with mechanical digital readout for straight or radius profile
RADIUS SCRAPING
Radius scraper with 2mm radius.
BUFFING
The buffing unit leaves a super finish on ABS and PVC edging, and removes any discoloration on the edges, which is especially noticeable when working with dark edge material.



 

INCH

METRIC

Feeding speed

23 FPM

7 m/min.

Panel thickness

0.472~1.77"

12~45 mm

Edge thickness

0.0158"~0.118"

0.4 ~ 3 mm

Minimum panel width

3.54"

90mm

Minimum panel length

6.7"

170mm

Min panel length w/ corner rounding:

With panel height 12-30mm

With panel height 30-45mm

6.7″

8.67″

170mm

220mm

Working table height

33.7"

856mm

Extensible support width

22"

560mm

Extraction connection

4" x 3

100mm x 3

Pre-milling spindle speed

12000 RPM

Top & bottom trimmer RPM

10500 RPM

End trim/corner rounding RPM

12000 RPM

Buffing RPM

2800 RPM

Max. machine dimensions (LxWXH)

130" x 47 ¼" x 47 ¼"

3300x1200x1200mm

Machine weight

1067 lbs

485 kgs

Shipping dimensions (LxWxH)

109" x 28 ½" x 54"

2920x720x1320mm

Shipping weight

1507 lbs

685 kgs




MOTOR POWER:

| | | |
| --- | --- | --- |
| Feed motor | 1 HP | 0.75 kW |
| Pre-milling motor | 2 HP | 1.5 kW |
| Glue spindle motor | 1/3 HP | 0.25 kW |
| End trim/corner rounding motor | ½ HP | 0.35 kW |
| Top & bottom trimming motor | ¾ HP | 0.55 kW |
| Buffing motors | 0.16 HP x 2 | 0.12 kW x 2 |
| Heated infeed fence | ½ HP | 0.4 kW |
| Total connected power | 8 HP | 5.47 kW |