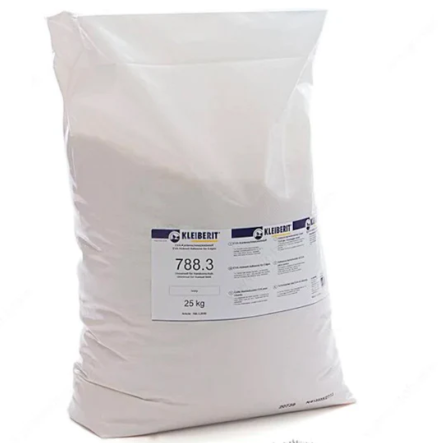 Kleiberit Glue 788.3 - Natural/Ivory Color 33lbs/15kg
Save

0

%
Save %
Original price
$199.00
-
Original price
$199.00
Hot Melt Adhesive 788.3 - Low Temperature - Natural/Ivory Color

 Fields of application Bonding of PVC, paper, veneer, and melamine edges with manual edge banding machines

Advantages
• Low processing temperature from 130° C TO 180° C 
• Very good melting properties
• Very long open time Properties of the bond
• Heat resistance - depending on the type of edge – approx. 70° C
• Very good resistance to cold, down to -15° C Properties of the Adhesive Base: EVA

Copolymers Specific gravity: approx. 1.16 g/cm³ Viscosity Brookfield HBTD: at 130 °C 135,000 ± 20.000 mPa.s at 150 °C 70,000 ± 10.000 mPa.s at 160 °C 50,000 ± 5.000 mPa.s

Melt index according to DIN 53 735 (MFI 150/2,16): approx. 125 ± 25 g/ 10 minutes Softening point (ring and ball): 85 ± 5 °C Application temperature: 130-160°C Delivery form: granules Colour available: ivory no. 20 Identification: identification not required according to the German hazardous substances regulations GefStoffV (see our safety data sheet)

Attention: When hot melt adhesives are melted and applied, vapors are set free and an unpleasant odor can occur, even if the recommended working temperature has been observed. Moreover, if the prescribed working temperature is exceeded over a longer period, harmful decomposition products can develop. Precautions should be taken to eliminate the vapors, e.g. by using a suitable ventilation system.

 Made in Germany  55Lb. bag