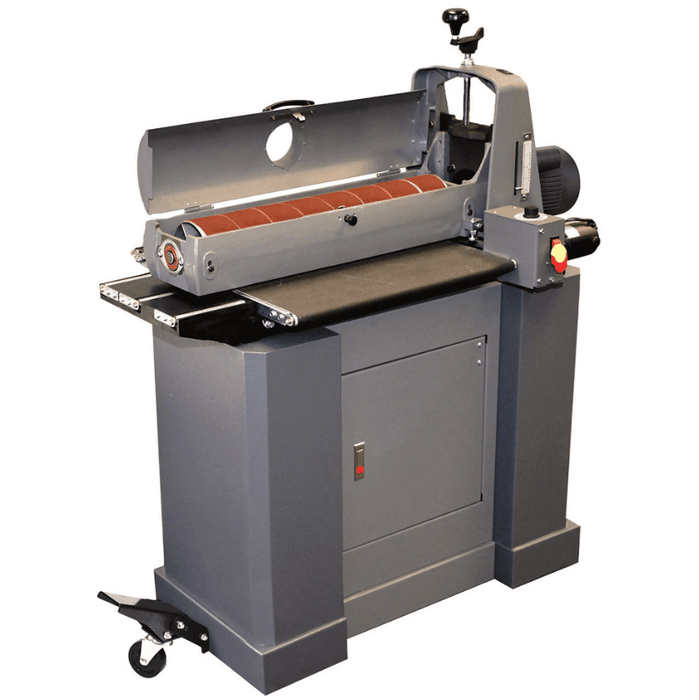 LAGUNA 25-50 Drum Sander w/ Closed Stand and Mobile Base
Save

0

%
Save %
Original price
$2,499.00
-
Original price
$2,499.00
The SuperMax 25-50 Drum Sander is the largest open-ended drum sander on the market. Sand 25? in a single pass, and up to 50" in a double pass. Expand the scope of projects you're able to complete, while increasing speed and consistency in which you're able to do them! 
The 25-50 Drum Sander is the newest member of SuperMax Tools drum sander family which was designed with new features to improve productivity. 
Patented Quick Adjustment Lever: reduces set-up time. Turbo Vented dust port: increases airflow to your dust collector by 15%. Rear placement of the Gear Motor: improve conveyor belt tracking. These new features complement the same great features SuperMax Tools have provided for years. 
Patented Fast Lever: allows quick adjustments for wide and narrow stock 
INTELLISAND Technology: prevents gouging, damaging, or burning material. 
Features:
Simple alignment feature: just one nut will adjust the conveyor to parallel the sanding head, making aligning the conveyor to the sanding head fast and easy. Indexed alignment setting Has an indexed alignment setting for narrow and wide stock. 
When sanding stock wider than 25", the index lever will properly adjust the conveyor for flawless wide sanding. Easy height adjustments A thrust bearing below the handle and a nut positioned above prevents the drum from moving out of the set position while sanding. No backlash or slop in the height adjustment mechanism allowing easier and smoother height adjustments. Drum will never go "out of alignment" The drum carriage is bolted to the base, preventing any movement or alignment issues. 
INTELLISAND™ Technology: Automatically adjusts conveyor speed based on load. Prevents gouging, damaging or burning stoc. Provides consistent finish even with varying grain pattern and density. Greatly increases abrasive planing and dimensioning speed. 
Flatness Guarantee: Precision-flattened steel conveyor bed reinforced with four steel cross sections for no "flex" in conveyor, guaranteeing flatness to less than .010? across the width of the sander. Abrasive conveyor belt offers the best grip for raw wood, giving you the ability to accommodate stock that is much shorter or thinner. 
Patented Abrasive Attachment System effectively tensions the abrasive wraps, preventing loose abrasive and overlap. Easiest access to abrasive fastening system of any drum sander! Extra wide space to access fasteners to eliminate need for special tools. Self-cooling drum prevents overheating and extends abrasive life. Tension rollers are adjustable in height and hold down pressure, eliminating snipe. Excellent dust extraction as dust cover is formed to shape of drum. Metal, not plastic, is formed to maximize air flow and dust extraction. Heavy-duty cast iron construction for strength, rigidity and reduced vibration. Mobile Base allows for stand and machine to be to moved easily. 
Optional Accessory Available: DRO (digital read out): maintain material thicknesses to increase accuracy and quality. 
Sanding Capacity:
Maximum Width (in): 50 (two passes)
Minimum Length (in): 2-1/4
Maximum Thickness (in): 4
Minimum Thickness (in): 1/32
Dimensions (in):
27D x 46W x 53H (on stand)
Drum:
5 x 25 extruded aluminum
Drum Speed:
1740 RPM
Dust Hood:
1- 4" vacuum port, min. 600 CFM recommended
Conveyor Motor:
43 in.-lb. torque, direct drive D.C. motor, ranged variable 0-10 FPM
Drive Motor (TEFC):
1-3/4 HP
Power Requirements:
110 V 20 amp
Shipping Weight (lbs):
369 (3 boxes incl. stand)