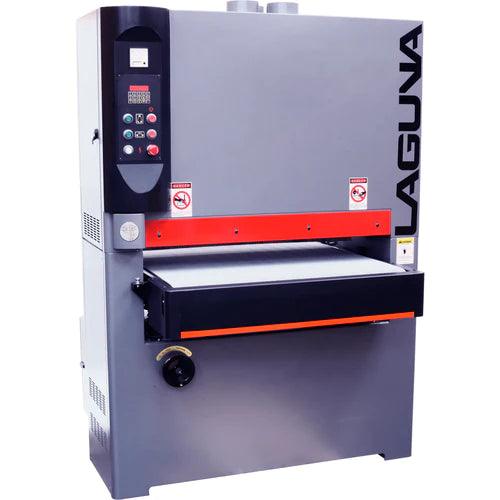 Laguna Tools Pro 51" 30HP 220V Three Phase Wide Belt Sander
Save

0

%
Save %
Original price
$44,999.00
-
Original price
$44,999.00
The Laguna Tools 51" 2RK (Roller + Combo head) wide belt sander is the perfect machine for any woodworking shop. The belt length is 75" which is the same length as several larger machines. The longer belt means it will not only last longer due to more abrasive material it will also run cooler.
Features
Double Drum
Main motor: 30HP
Variable feed speed: 2HP
Table lifting motor: 0.25HP
Voltage: 220/3 PHASE
(PLC) Programmable Logic Control
Automatic Thickness Control
This machine is equipped with 1 ( 8") roller and a second (4") roller followed by a wide platen for fine finish. This allows you to use a rougher grit on first roller (8") that will absorb most of the impact and do the dimensioning while the second roller (4") with the Platen can have a finer grit. This will save time over having to run your production through the machine 2 times & change belt grit. Due to the large HP motor (30 HP) the machine is capable of dimensioning even wide boards. This is important for customers who do not own a thickness planer. When you use the machine to dimension your work only very aggressive paper 60 or 80 grit should be used.The heavy carpet feed belt is powered by a separate 2HP motor and the feed speed is adjustable from 12 to 60 fpm.
You can adjust the thickness in 4 ways:
Manual hand-wheel on the bottom of the machine
By pressing the up or down arrow the table will move in the desired direction
Input a set dimension on the keypad and machine will go to that dimension
The auto thickness gauge will measure your wood piece and automatically set the table to the thickness of the piece of wood inserted
Max Sanding Height: 5.9" (150mm)
Min Sanding Height: ¼" (6.4mm)
Max Sanding Width: 51" (1300mm)
Sanding Belt Size: 51" x 75" (940mm x 1905mm)
Adjustable Sanding Platen: 1¾" (45mm)
Diameter: of Sanding Drum: 8" + 4"
Length of Sanding Drum: 51"
Sanding Drum RPM: 1725
Variable Conveyor Speed: 12 – 60 fpm
Dust Port Size: 4 (101mm)
Number of Dust Ports: 3
Footprint (L x W x H): 63" x 65" x 98"
Conveyor Height At Lowest Setting: 32" (813mm)
Cabinet: Steel
Operating Air Pressure: 6 Bar
Sanding Belt Oscillation: Pneumatic/Adjustable
Sanding Belt Motor Brake: Yes. Air Operated Disc Brake
CSA: Fully Certified
Net Weight: 4200 lbs
Ship Weight: 4450 lbs