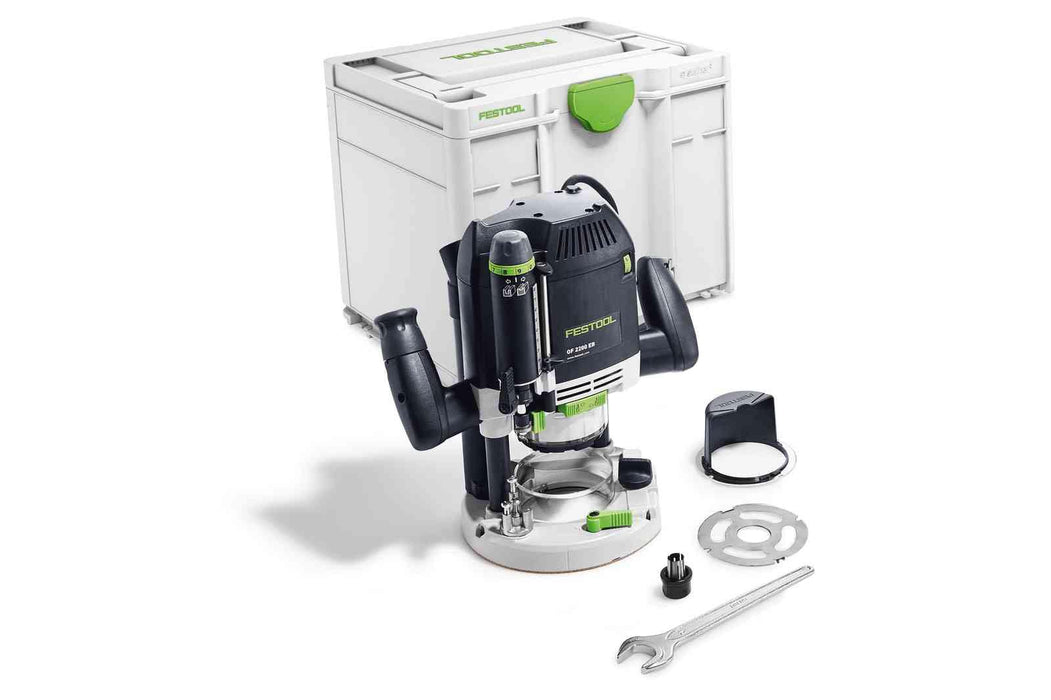 Router OF 2200 EB-F-Plus
Save

0

%
Save %
Original price
$1,099.00
-
Original price
$1,099.00
Includes
dia. 1/2" clamping collet (12.7 mm)

chip catcher

open ended spanner, WAF 24

Systainer SYS3 M 337
Functions
You might even think it is a portable shaper
The OF 2200 is our most powerful router. It can easily plunge into 8/4 hard maple and make a 1/2" groove in a single pass. With 2200 watts of power, you might think you are working with a portable shaper. Designed for exceptional maneuverability, the OF 2200 incorporates many new ergonomic design features, making it easy to control, and a pleasure to use on the jobsite or in the shop.
Includes 1/2" collet only. 8mm and 1/4" collets available separately.
This is the new imperial version of this tool. It is identical to the previous version with the exception of the units on the depth scale.*OF Routers produced after 2021 are NOT compatible with the Router Table CMS and all variations.
Product details
OF 2200 EB-F-Plus
Dust Extraction Column

The Dust Extraction Column is placed on the back of the OF 2200 and extends to the top of the router and includes a swivel nozzle. A design which keeps the power cord (also top mounted) and dust extraction hose out of your way. Coupled with the Festool Boom Arm (492 753), work smarter and take full advantage of operation without being impeded by cords and hoses. Festool recommends using a 36mm hose.

Intuitive Controls

Operating the OF 2200 could never be easier. Controls are clearly labeled with icons indicating purpose and adjustment direction. Work smarter without having to locate the manual to make less common adjustments. Use the onboard variable speed dial cross reference to select the appropriate spindle speed based on material and application. Sales and support numbers are also directly on the router for your convenience.

Magnetic Spindle Brake

The Magnetic Spindle Brake of the OF 2200 is a faster, more reliable method of retarding spindle motion. The use of magnetic force to stop the spindle also prolongs the service life of the motor versus a mechanical or electronic method.

Tremendous Plunge Depth Capacity

With 80mm of travel, the plunge depth of the OF 2200 is phenomenal. The collet actually plunges 10mm below the base of the router providing another option for bit changes. Use the micro-adjustment knob to fine tune plunge depth in increments of 1/256" (1/10mm). The four position depth stop turret provides pre-configurable plunge depths including a 5/64" (2mm) finishing pass setting.