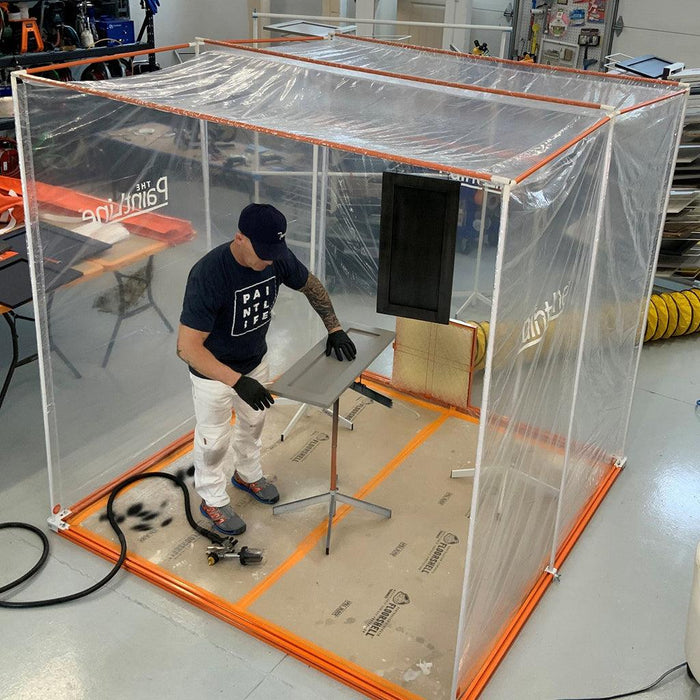 PaintLine Portable Jobsite Spray Booth™ (PJSB)
Save

0

%
Save %
Original price
$831.00
-
Original price
$831.00
The Portable Jobsite Spray Booth™ (PJSB) has a precision-manufactured, fully collapsible, aluminum frame and uses disposable plastic liners to protect the jobsite while spraying non-flammable, non-combustible finishes. This walk-in, open-faced booth sets up in minutes without tools and packs into one carry bag for easy transport between jobs. Use the PJSB on jobsites or in workshops. This affordable, portable, professional spray booth is the perfect solution for spraying/applying finishes, sanding, routing, or any other application where you want to keep particulate contained and/or away from your work pieces. Costing as little as $13.54 per job, the PJSB will provide years of service, saving thousands of dollars in set-up and clean-up costs.
Features:
Disposable 5-sided clear plastic liner provides overspray protection to the ceiling, floor, and three sides.
Clear plastic liners let in ambient or supplemental light.
High quality, durable aluminum extrusion frame, and support poles.
Available ventilation attachment accommodates air filter, ducting, and blower system. Filtered exhaust can be routed as required.
No-tools, one-person assembly in about 15 minutes.
Quickly packs into one carry/storage bag (45 lbs).
Dimensions: 2m (80") x 2m (80") x 2m (80")
Included:
1 durable aluminum extension frame and support poles.
3 disposable, plastic liners.
1 heavy-duty carry bag.
Sold Separately:
Additional Liners
Vent Attachment
Air Filters
Duct Reducer
Ducting

Blower
To be used with Non-Flammable / Non-Combustible Paints & Solvents Only. Use with proper respirator.